As you shop for new cars, you may be attracted to that sleek new Jaguar E-PACE, F-PACE, and XJ. You may find yourself considering multiple Jaguar cars, as well as cars from other major car brands. When you need to narrow down your options, you may find our library of Jaguar car comparisons helpful.
At Jaguar Columbia, we've put together this resource to help Columbia, Lexington, and Irmo shoppers find a car that satisfies their needs. We hope it help you clarify what you're looking for, and we encourage you to reach out to us with any questions!
Jaguar XF Sportbrake vs Mercedes-Benz vs Audi

Why Read Jaguar Vehicle Comparisons?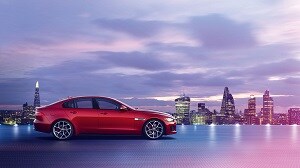 Research is essential to the car-shopping process, no matter which models you may be considered. At our dealership, we encourage shoppers to treat buying or leasing a vehicle as the investment it is. You'll spend a lot of time behind the wheel of your next car, and it makes sense to choose one that can keep you happy.
The more research you do, the better equipped you are to make that happen. By reading our comparisons, you'll learn which cars have the features you care about most, whether it's a more sizeable trunk, more advanced technology features, or a more compelling exterior design.
Supplementing Your Vehicle Research
Our Jaguar vehicle comparisons are a great source of information, but they're hardly the only resource out there. You can read our Jaguar reviews to learn more about individual Jaguar models across a vast selection of categories, such as performance specs, safety features, advanced technology, and more.
In addition, our team of vehicle experts is always standing by to help, either in person or online. They can help you learn more about any vehicle you like, and they're always happy to assist with your comparison. They know all there is to know about Jaguar models-and quite a bit about other makes and models, too.
We'll give you all the information you need to get started, but in the end, the decision is up to you. That's why it's important to learn as much as you can and explore every avenue of information available to you.
Browse Our Jaguar Car Comparisons Today!
There's no feeling quite like getting behind the wheel of a car perfectly tailored to you. At Jaguar Columbia, we want to help you do your diligence and make that happen. If you live in Columbia, Lexington, or Irmo, browse our Jaguar car comparisons and discover what your favorite cars have to offer!