You'll get better performance and efficiency from your car on the roads of Columbia, Lexington, and Irmo if you have your oil changed regularly. For a quality oil change near you, the team at Jaguar Columbia has your back.
Our technicians are truly top of the line, and they'll perform your oil service with the care and attention to detail your car requires. Schedule your next oil change with us for a premium experience!
How Many Miles Until an Oil Change?
Signs You Need an Oil Change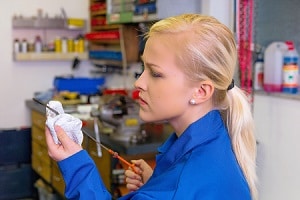 As with any system in your car, you'll see warning signs when you need to change your oil. Jaguar cars should have their oil changed every 12 months or 16,000 miles, but non-luxury cars often follow more frequent intervals, such as every six months or 6,000 miles. Here are some signs that you need your oil changed ASAP:
Low Oil or Black/Gritty Oil. Check with your oil dipstick-fresh oil should be amber in color and smooth in texture. 
Smells, Sights, & Noises. If you hear engine knocking, see exhaust smoke, or smell oil in the cabin, have your oil changed and systems inspected immediately.
Warning Lights & Maintenance Reminders. If you notice the oil pressure or oil level warning lights aglow, or a maintenance reminder on the dash screen, have your oil checked.
Oil Changes from the Experts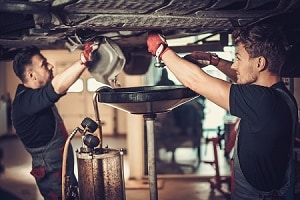 At our service center, you'll find a team of fully trained, certified technicians ready to serve you. With all their experience performing oil changes on a variety of makes and models, they can have your car serviced and ready for the roads in no time.
No matter what type of engine oil you use-conventional or synthetic-you can count on quick, efficient service. We'll change your oil filter for you, too, so you can count on clean and refined oil for a long time to come. If you need your other fluids checked or topped off, we can help with that, too.
Schedule an Oil Change near Me
Is it time to schedule your next oil change near you? Feel free to make an appointment at Jaguar Columbia, your dealer serving Lexington, Irmo, and Columbia. We'll have your oil service performed in a jiffy, so you waste no time on your next road adventure!
Hours
Monday

9:00am - 6:00pm

Tuesday

9:00am - 6:00pm

Wednesday

9:00am - 6:00pm

Thursday

9:00am - 6:00pm

Friday

9:00am - 6:00pm

Saturday

9:00am - 6:00pm

Sunday

Closed