What Is Jaguar Adaptive Cruise Control?
Jaguar Adaptive Cruise Control is an advanced driving system built to make everyday driving both safer and simpler. Unlike the bare-bones cruise control systems found in most other new cars sold today, Jaguar Adaptive Cruise Control digitally scans the road ahead for other vehicles, and adjusts the speed as necessary to maintain a safe following distance, at both city and freeway speeds.
Setting up and using the cruise control systems on most other cars and SUVs can be rather stressful, constantly requiring the user to re-activate the system anytime a slowdown occurs. Perhaps worst of all, these simple systems can't recognize other vehicles or potential road hazards. Jaguar Adaptive Cruise Control, on the other hand, takes the stress out of cruise control by automatically adjusting acceleration and braking for you. By using a high-tech radar system built into the front grille, the Jaguar Adaptive Cruise Control system can instantly measure the distance between the vehicles ahead, and automatically adjust throttle and braking to maintain a safe speed and following distance. With settings from 20 MPH to 124 MPH, you can use ACC just about anywhere, too.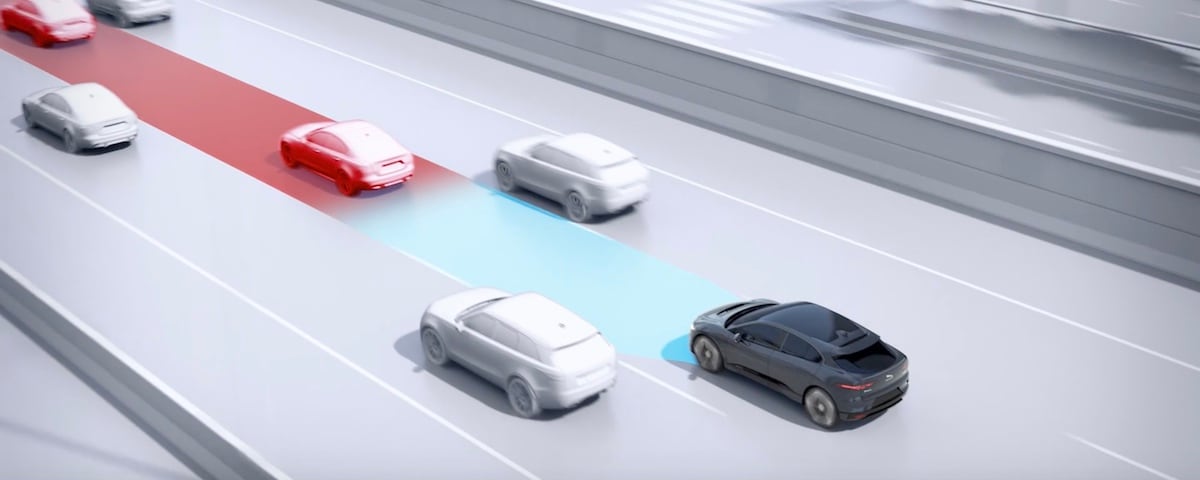 Queue Assist
One of the most exciting features included with Jaguar Adaptive Cruise Control is the exclusive Queue Assist technology. Working together with the cruise control system, Queue Assist will track and follow the vehicle ahead, even to a standstill. Once traffic or the vehicle ahead begins to move, the system requires just a brief press of the accelerator to resume cruise control. Best of all, this system is constantly active when Adaptive Cruise Control is engaged, so no need to intervene when traffic slows down. Thanks to Jaguar Adaptive Cruise Control and Queue Assist, the stress and hassle of bumper-to-bumper traffic can be severely reduced.
New Jaguar Models With Adaptive Cruise Control in Columbia
Jaguar Adaptive Cruise Control just one of the many new high-tech features offered by the British carmaker, and is now available with many new models. For 2022, Jaguar Adaptive Cruise Control is available for all new Jaguar sedans and SUVs, including the all-new electric I-PACE. For more information about Jaguar Adaptive Cruise Control, feel free to call us at 803-973-5463 to speak with one of our friendly and knowledgeable teammates.