Jaguar Regenerative Braking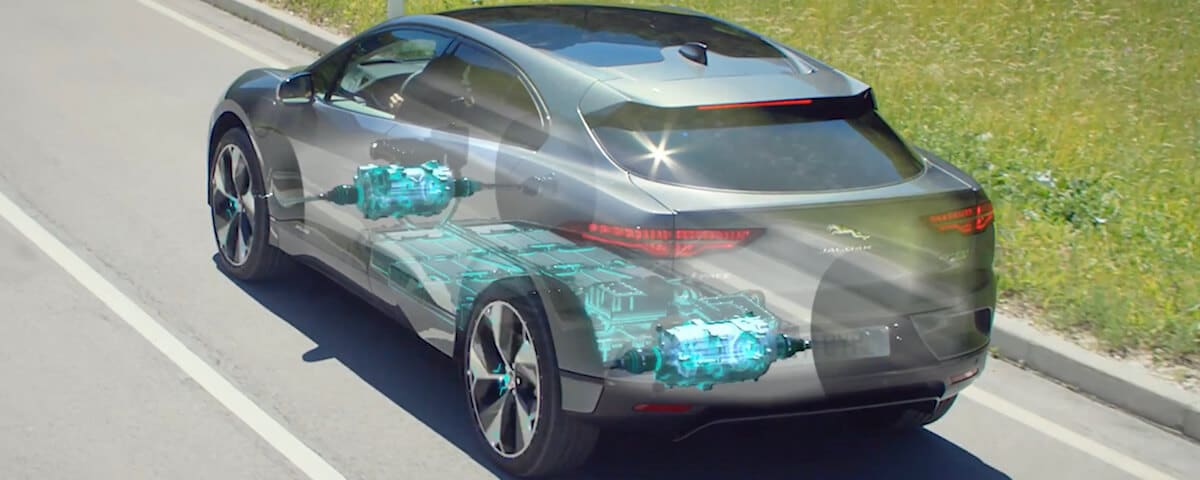 What Is Jaguar Regenerative Braking?
Jaguar Regenerative Braking is a feature exclusive to the all-electric Jaguar I-PACE, designed to convert braking force to usable electricity. By harnessing the immense forces applied under braking, the Jaguar I-PACE can charge its battery while slowing down, making it even more efficient on the road. With two settings of regenerative braking available, owners can tailor the system to match their driving style.
Vehicle braking in almost every single car, truck, or SUV, is done with a simple mechanical brake pad and rotor system. High-friction pads clamp on to a large steel or ceramic rotor, slowing the vehicle through friction. While this is a relatively cheap and simple way of stopping a vehicle, it generates massive amounts of heat and requires regular maintenance and repairs. Working together with a traditional mechanical braking system, the regenerative braking system on the Jaguar I-PACE harnesses braking force and turns it into electricity. By converting that potential energy from braking, especially when descending a hill or mountain pass, regenerative braking can add significant amounts of battery charge to the system, increasing range and performance.
One-Pedal Driving
By selecting the "High" regenerative braking setting, the new Jaguar I-PACE can be mostly driven with just one pedal! This form of driving is exclusive to electric vehicles, and particularly those with powerful regeneration systems. With this enhanced regenerative braking, the vehicle will slow much more quickly when the accelerator pedal is let off. By doing most of the braking work for you, you can mostly drive with just one pedal, only using the brake pedal when coming to a complete stop. Best of all, by using one-pedal driving, wear on the pads and rotors is significantly reduced, meaning fewer brake services and pad replacements! By using this more powerful regenerative braking setting, you will also harness the maximum amount of energy to help recharge the battery, giving you the most efficiency and range.
New Jaguar with Regenerative Braking in Columbia
Regenerative Braking is one of the best ways to maximize battery life and performance on electric vehicles, and is currently available on the all-new Jaguar I-PACE. For more information about Jaguar Regenerative Braking, or one of the other many new [Dealership Make] technologies, give us a call at 803-973-5463 to speak with one of our friendly and knowledgeable teammates.
Jaguar Columbia

540 Jamil Road
Columbia, SC 29210