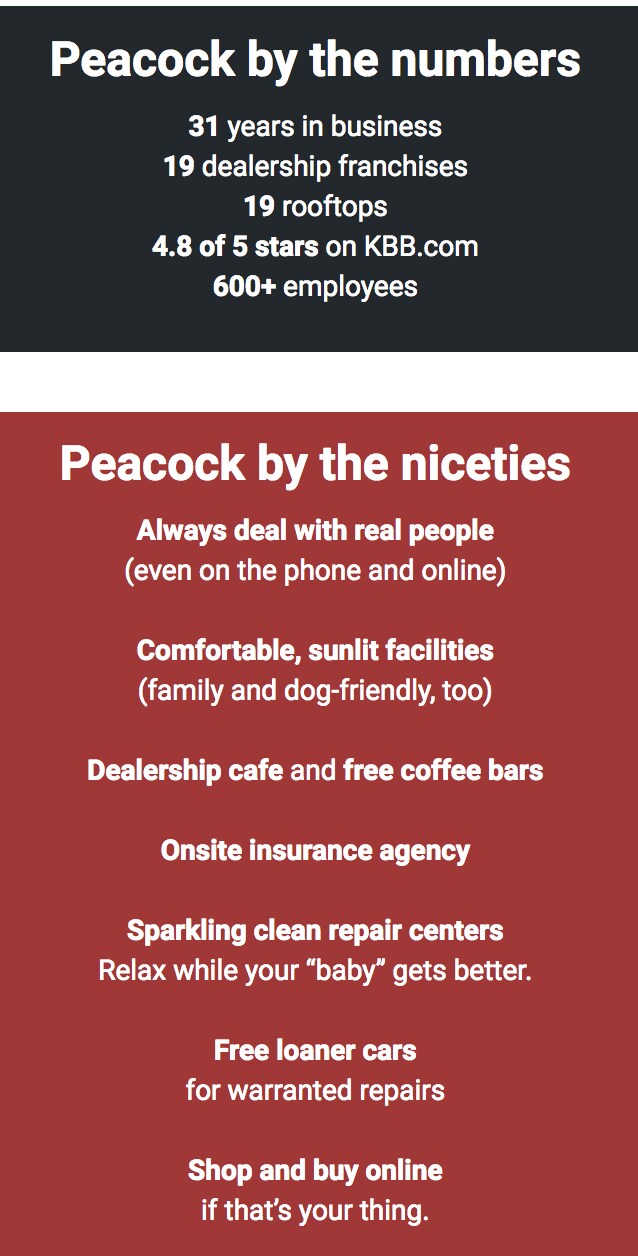 The Peacock story starts out on a dusty rural Florida roads. That's where six-year-old Warner Peacock took daily trips with his Grandpa nicknamed "Peanut", who, as a Ford Salesman, drove the latest trade-ins out to show rural neighbors.
Bouncing down bumpy driveways on big bench seats (in the days before seatbelt), Warner grew to love being greeted with excitement: sometimes by flocks of chickens and other farm animals, and almost always by sociable families who didn't get many guests-or chances to drive nice, newer cars.
That's what Warner remembers best-how happy people were to see his affable Grandpa drive up, and how earnest Grandpa was about wanting to make them happy.
It's a lesson he still lives by.
Growing up a car guy
In the years since, Warner worked through high school and college for his Dad's auto dealership, earned a business degree, worked with his mentor Don Mealey in a dealership management company, then invested with him in dealerships, and then eventually started dealerships of his own.
Today, his family and partners have built a network of dealerships in Florida, Georgia and South Carolina. Last year, these dealerships sold more than 16,000 cars and trucks. They employ more than 600 people in central Florida, the South Carolina Midlands and Lowcountry and coastal Georgia.
But to Warner and his partners, there are far more important numbers: like 4.8 out of 5 starts from hundreds of customers on kbb.com,* an ever-growing service awards, and literally thousands of satisfied customers.
What makes Peacock run
Warner says the company's growth has come simply from "doing our best to make everyone happy."
In business terms, that means a corporate goal of "zero dissatisfied customers."
In operations, that means offering insurance onsite, through a full-service, multi-insurer agency.
In facilities, that means cheerful, family-friendly and sparkling clean buildings-even the on-site collision centers. There are on-site cafes, free coffee and even a wellness center. Most areas are dog-friendly, too.
In sales and service, that means "empowering personnel" to say yes to customer requests, without the need to say "let me check with my manager." It means free loaner cars during warranted repairs.
In the community, that means supporting local Boys and Girls Clubs, the American Heart Association, and other effective, important causes. And Warner devotes much of his time to community economic development, working hard to bring his neighbors job opportunities.
Big picture, long view
"I'd rather spend more money now on creating a positive experience for our customers because I feel it is a good long-term investment," Warner says. "We want to continue giving our customers better onsite experiences."
But Peacock is investing heavily in online sales and service, too. "Customers can compare cars, choose options, arrange financing, and get insurance all before they walk in our front door-and walk out, other literally in minutes, with their keys," Warner says.
"Because, as nice as we try to be, some people are just dealership-shy."
But that's okay. Proud as he is of his dealerships and their staff, what really matters to Warner is making people-customers, staff and community-happy long-term.